Welcome to SamRandonRacing
Randon back for a full season with Team HARD Racing
Sam Randon (23) has committed his future to Team HARD. Racing for the foreseeable future with both parties currently assessing their options with regards to which series the Ashbourne racer will compete in for 2019.
Randon took part in multiple Britcar races in 2018 which saw him race in both a Ginetta GT4 and a 2016 Toyota Avensis BTCC car.
Randon is excited to work with the Kent based outfit for a complete season in 2019.
"It was an easy decision to sign up with Team HARD for 2019 after such a successful few races with them last season. Despite the number of drivers and cars he manages, Tony has a genuine interest in me as a driver and the team has a real family feel to it.
"I worked with a few different crews last year in Team HARD and they all love their racing and are really dedicated to turning out the cars in the best possible way to win. Winning is clearly important to Team HARD and I want to be part of that."
Tony is delighted that Sam (Randon) has committed to Team HARD despite not finalising which series he will enter in 2019.
"Sam has been on our radar for the last couple of years and I was pleased when we managed to get him in the car last season. Sam has so much raw talent which he demonstrated in 2018 by excelling in both our Ginetta GT4 and Toyota touring car.
Sam's commitment to the team just shows the respect and reputation we are gaining as a team in the UK. We see all of our team members, both staff and drivers, as part of the HARD family and Sam bought into our values from the off. It's very satisfying for us."
Randon is sponsored in 2019 by headline sponsors Twincentric Integration and Velocity IT Interim and Consultancy, plus Incite Consulting, MX Display, DM Integration, and Catena Business Networking.
Entering it's 5th year, Team HARD. Racing is due to expand to more than 14 championships in 2019. It's this scope that allows the team to sign drivers without them committing to a championship at the same time. Sam and the team are currently assessing which one of these championships will help springboard the 23-year old's career in 2019.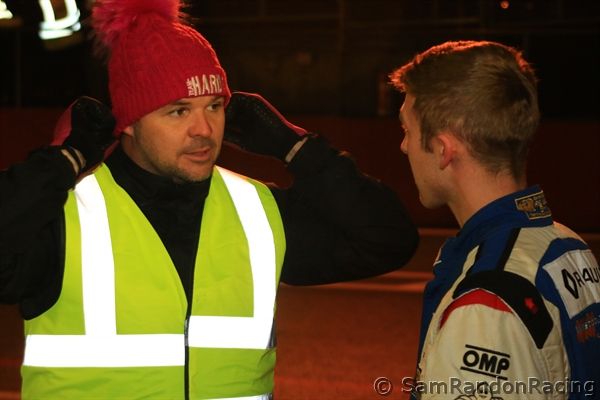 Sam will be working with Team HARD boss Tony Gilham this season.
SAM Randon had his first experience of a British Touring Car Championship machine – and drove it from the back of the grid to third place in an evening race at Brands Hatch.
Sam shines in Britcar night race in BTCC Toyota
SAM Randon had his first experience of a British Touring Car Championship machine – and drove it from the back of the grid to third place in an evening race at Brands Hatch.
Story by Colston Crawford, Ashbourne News Telegraph
The 23-year-old racing driver from Ashbourne was invited to take the wheel of a BTCC Toyota Avensis for his new backers, Team Hard, in the last round of the Britcar Endurance  Championship.
In the two-hour endurance races, he was partnered by Michael Crease and their brief was to try to take points off the rivals of Team Hard's sister car, driven by championship-chasing Simon Rudd and Tim Barley.
That they did – on the second day. Mechanical problems foiled their efforts on the first day, forcing Crease from the track before Randon had even had chance to take his turn behind the wheel.
The second race saw them start from the back of the grid owing to failing to finish the first race, then a problem on the warm-up lap saw them asked to start from the pit lane.
Unbowed by the disadvantage, they whizzed past the field of 22 cars and, remarkably, were leading the race by halfway.
That was when they hit another obstacle. The Avensis, not usually used for endurance racing, is not built for rapid refuelling like some of the cars taking part, so they slipped back again when they had to fill up.
The problems did not end there. With 10 minutes to go, the front splitter started to come loose and bounce on the track.
Crease was forced to pull into the pits again. However, he came through the last few laps to grab third overall and second in class.
"It was an amazing result from dead last and I couldn't be happier," said Randon. "What a great team effort and an amazing car.
I want to dedicate this podium places to my two grandpas who both passed away last week.
"I am very grateful to Tony (team boss Tony Gilham) for giving me this opportunity. I've always dreamt of driving a BTCC machine so to get the chance to actually race it was very exciting."
Gilham, an ex-BTCC driver himself, had no qualms about giving Randon a drive in the Avensis.
"Sam has driven faultlessly in everything we have put him in so far this season so we were keen to see what he can do in a Touring Car," he said.
"It was back to front wheel drive so he can draw on his extensive Clio experience."
The season done, Randon and Gilham will now talk about their options for next season – but Randon feels he has taken a big step closer to his target of a full BTCC slot in the future.
Sam to drive BTCC car in night race
SAM Randon gets one step closer to his BTCC dream after being selected to drive a current spec BTCC Toyota Avensis in the final round of the Britcar Dunlop Endurance Championship at Brands Hatch next week.
23 year old Randon will team up with 2018 Ginetta GT4 Supercup AM champion Michael Crees at the wheel of the Team HARD Racing Toyota Avensis in the Britcar finale at Brands Hatch in what will be one of the strongest pairings on the grid.
Team boss Tony Gilham has been impressed with Randon's performances so far in Britcar. "It will be great to see Sam out in the BTCC car. We are confident he will love it and produce as always".
"With our #24 car (Rudd/Barley) still in contention for the overall Britcar endurance championship I've been searching for a driver to partner Sam and help take points off our rivals. Michael fits the bill perfectly. We want to end our season at the top."
Head down to Brands Hatch on 17th/18th November to see Sam and the rest of the crew in action in what is set to be a fascinating weekend. Furthermore, this is one of the few events held in the United Kingdom that finishes at night. What better way to close the Motorsport season.
Sam shines in the rain
SAM Randon had his first experience of racing in the wet in a GT car when he competed in the Britcar Dunlop Endurance Championship at Silverstone.
story by sport@ashbournenewstelegraph.co.uk
pictures by Stevie Borowik Photography
Having secured funding to finish the season with Team HARD in the championship, Randon was paired with another new co-driver in the demanding conditions. The pair finished out of the podium places but it was a valuable learning process for Randon.
"I needed to experience the car in the wet and these Dunlop tyres were incredible. It gave me great confidence," he said.
"I had zero visibility over the start line into the first corner but I knew I had the grip so you just have to drive through it.
"It's a combination of confidence, feel and instinct. You just follow the lights of the car in front and wait for the brake lights."
Heavy rain all day meant it was touch and go as to whether there would be any racing at all and a couple of heavy accidents in the warmup due to standing water meant qualifying was held behind the safety car.
The grid order was set by championship position, with Randon's car given P7 while the sister car of Rudd/Barley took pole.
Due to the disruption, both races were limited to 50 minutes but still required a mandatory pit stop and driver change.
Randon took the rolling start in race 2 from a P17 grid position and made impressive progress throughout his 30 minute stint despite some damage on lap one, handing the car over in P3 in class and an overall P5.
Tony Gilham, boss of Team HARD remained happy with his newest recruit. "Sam was very quick in what was very treacherous conditions," he said
The last round at Brands Hatch is a night race in November and so is likely to be wet as well as dark, adding to the learning process.
"Brands Hatch will be a totally new experience for me," Randon said.
"There is no circuit lighting, just headlights, but at least I can cope if it's wet."
Mixed fortunes but a podium for Randon in latest GT outing
SAM Randon was back on the podium after the latest round of the Britcar Championship at Snetterton.
by Colston Crawford – sport@ashbournenewstelegraph.co.uk
He recovered from a frustrating qualifying session and then mechanical problems in race one to finish second in the following two-hour endurance race. Randon was driving the Team Hard sister car rather than the one he won in at Donington in the previous round, alongside Simon Rudd.
At Snetterton, Rudd was back with Tom Barley, while Randon was paired up with a late substitute driver, 18-year-old Angus Dudley.
x
Qualifying was disappointing as neither driver really got a clear lap and they ended up 13th and fourth in class. They were a long way behind Rudd/Barley, their closest comparison.
Conditions were dry for race one and the team decided Randon should take the rolling start before a midway pit stop to hand over to Dudley.
After a good start – Randon moved up to second in class behind the sister car on the first lap – a driveshaft failed coming out of the Agostini bend and the Ashbourne driver had to park up.
The situation looked grim as the required repairs would normally take a day to carry out. But the team rose to the challenge and the car was ready within minutes of the gate closing for the two hour endurance race.
Although starting from the back of the grid, Randon channelled all his frustration into a spectacular first lap.
"One advantage of starting in last place was that I could really weave about on my own and get the car up to temperature," said Randon.
"I also held back a little at the start and got a good run into the first corner."
His determination ensured he moved up eight places after the first two corners.
"I was just determined to get back into it," he added.
"I knew my tyres were fresher than everyone else's as we didn't do any laps in race one so I made the most of that advantage and worked my way up to the back of Simon Rudd in the sister car."
Dudley took over and was first for a while but a late surge by the KTM Crossbow team of Mike McCollum and Sean Cooper claimed first place, with Randon/Dudley second and Rudd/Barley third.
"I am pleased with that," said Randon.
"After the disappointment in qualifying and then in race one, I am just so grateful to Team Hard for getting us back out there. This was for them.
"Angus and I worked well together and were very similar speed so that is something we also need to explore together".
It's still not certain what the rest of this season will bring for Randon as discussions continue with Team HARD.
Sam's in for some Hard racing with new deal
SAM Randon may have had a frustrating 2018 motor racing season – but the young Ashbourne driver knows exactly what he will be doing next year.
by Colston Crawford – sport@ashbournenewstelegraph.co.uk
Randon has been signed up by Team Hard – the GT racing team he made a winning guest appearance for recently. This season saw Randon struggling first with funding issues then, when he had funding in place to drive a Maserati in the GT Cup, he was unable to find a funded co-driver for the GT endurance race format, which requires drivers to swap over midway through the race.
When one of Team Hard's drivers was unavailable in July, Randon stepped in – and he and Simon Rudd not only won their GT4 class but won the race outright in Team Hard's Ginetta G55.
Team Hard boss Tony Gilham, an ex-British Touring Cars driver, said: "We've been watching Sam's progress over the last couple of seasons.
"It was great to finally welcome him to the Team Hard family for the last Britcar round at Donington.
"As expected, Sam was the perfect choice to  replace Tom Barley and went on to win on his debut and put in a complete performance to keep our championship aspirations alive.
"Sam is a great driver and very professional on and off the track, which is needed in modern day motor sport.
"Being the complete package is essential and Sam is exactly that, so we are very much looking forward to building a great relationship moving forwards."
Randon had stepped up to GT racing from Clio Cup competition, in which he had also struggled for finance. But, despite the big, powerful cars involved, GT racing represents relative value for money for aspiring drivers and, as a team event, the costs are shared between two or sometimes three drivers.
"The GT cars are amazing with bags of power and grip and the endurance races mean I'm in the car much longer than the sprint type racing I've done in previous seasons," said Randon.
"I'm really excited to have a proper run at a full championship with Team Hard next year."
Randon's 2018 season is not quite done, as he will guest again for Team Hard in another round of the Britcar Championship this weekend at Snetterton, standing in this time for the team's sister car.
This time he will be racing with Angus Dudley, also in a Ginetta, but against his teammate last time, Rudd, with whom he clearly hit it off.
"It will be strange racing directly against Simon," said Randon.
x
"We got on so well at the last round and were very similar paced. But at least we know the team this time and the car so it won't be quite as daunting.
"Angus is a quick driver with lots of experience so I'm hopeful we will work well together and can be challenging for the silverware."
AVIT media taster video of Sam with Team Hard
Great taster video from Ash at AVIT Media who has team up with Automotive photographer Mark Averill to create AVIT. New logo on the car then…

Sam back in action with Dunlop Endurance win
SAM RANDON took his frustrations out on the track with a stunning victory on his return to action at Donington Park.
by Colston Crawford – sport@ashbournenewstelegraph.co.uk
The 23-year-old Ashbourne driver stepped in to help out Team HARD in the Britcar Dunlop Endurance Championship and partnered one of the team's regular drivers, Simon Rudd to both overall and a class victory in a race lasting 39 laps. Team HARD were missing their usual second driver, Tom Barley, who was on his honeymoon. They invited Randon to sit in – and their judgement was repaid handsomely.
x
Randon has been in limbo since a win on his GT Cup debut in a Maserati in April. The GT Cup is also an endurance event, with two drivers swapping places at a pit stop, and while Randon has funding to continue, he has been unable to find a suitable co-driver.
For Donington, Randon was stepping into a Ginetta G55 GT4 car. It is less powerful than the Maserati but much lighter, so the acceleration is similar, although the handling is different.
Team HARD boss Tony Gilham said: "We have been in communication with Sam for some time now and we were looking for someone that would fit straight into the team and be up to speed.
Sam is a very grounded young racing driver with amazing natural ability and all the attributes we were looking for."
"The Ginetta is lively and handles like a go-kart. It was a steep learning curve but great fun," added Randon.
The Britcar racing format for the weekend was a one-hour sprint race including a driver change midway, followed by a two-hour endurance race with a mandatory driver change and refuel midway.
Rudd qualified the car third in class and Randon took the first stint, including a rolling start. "It was busy and I was being cautious as I still didn't know the car that well. We had out-qualified a few faster cars than us so they were nibbling at my heels but within a few laps I felt quite at home and focused on consistency," said Randon.
After switching, Rudd brought them home third in the sprint race. Randon again started the longer race.
"Endurance racing is as much about strategy and reliability and the attrition began to mount up as cars stopped or retired. The safety car was deployed, which always spices things up, but we got through it and I kept banging in the laps.
"It's a game of cat and mouse, a real team effort."
By the end of the first hour, Randon was leading the whole race and it was a position Rudd was able to maintain after the change.
Gilham said: "Our judgement (to select Randon) was spot on, with an amazing debut culminating in not just a class win but an overall win.
"We're very much looking forward to working together again and seeing what the future holds."
x
Randon added: "I'm so relieved we were able to give Team HARD the points they needed and pay back the faith they showed in me."
Catena interview
Sam off to flyer with GT Maserati victory
SAM Randon enjoyed his debut in GT Cup racing as he raced to two class victories with teammate Freddy Nordstrom at Donington Park. The pair were driving a stunning Maserati GT4 in the Group GTH class at the meeting after teaming up just ahead of race day.
Story by Colston Crawford – sport@ashbournenewstelegraph.co.uk

And while not too much should be read into the victory just yet – there was a relatively small field in the GTH class at this meeting – it was remarkable how quickly Ashbourne racer Randon adjusted to his first outing in a car much bigger and more powerful than the Renault Clio he was racing last season.
Remarkably, needing a second driver, they found Nordstrom via internet networking site LinkedIn. The pair went on to lap with a hundredth of a second of each other all weekend – proving a perfect match. GT racing is a test not only of speed but endurance and strategy, as the long races require the drivers to do a stint each and the Le Mans-style rolling start and quick driver changeovers are integral to the day's entertainment.
x
Randon's preparation was rushed, with the package pulled together late – his participation in the rest of the series is not guaranteed yet – and that meant testing was limited to a private track at Blyton in Lincolnshire, ahead of race day.
Randon had never raced a rear-wheel drive car before, nor a car with such power as the 4.7-litre Maserati. Unlike other cars on the grid, the Maserati has no ABS or traction control, so driver skill is paramount.
"We came here with a plan to learn and get laps under my belt," said Randon.
"I needed to get up to speed quickly with the car as it was so different to the Clio. It was quite daunting."
x
Nordstrom, who has more experience in this sort of car, took the first stint and got them well ahead in class, a position Randon was able to hold.
"We got the pit stop done quite smoothly after a few practice runs beforehand," said Randon.
"Freddy built up a good gap for me, so I had to just go out and bring it home."
To do that, he had to overtake an Aston Martin – and did so.
"That was so satisfying, the Maserati was so stable," said Randon.
"It's been a really successful start as we came here with no expectations.
"We didn't have any winter running in the car so had a first outing on Friday, then came away with two wins on Saturday.
"It's a big car and so are the other cars in the race.
"I was leading our class and found myself catching the back of the higher speed class. I caught the tail end of a car from another group and it had more straight-line speed.
"I was all over him in the corners but couldn't touch him on the straights. I just couldn't get past and wasn't going to risk passing a car I didn't need to, so I am just stunned by the win.
"I'm really pleased with the result, it's a cracking first weekend in the GT Cup and a massive thank you to the Ebor23 guys and my sponsors Twincentric."
The next race is at Brands Hatch in May and Randon still urgently needs sponsorship to complete the season.
ASHBOURNE racing driver Sam Randon is hoping to make the step up to driving a ferocious 4.7-litre Maserati in next year's British GT Championship.
Sam lines up Maserati drive
ASHBOURNE racing driver Sam Randon is hoping to make the step up to driving a ferocious 4.7-litre Maserati in next year's British GT Championship.
Story by Colston Crawford – sport@ashbournenewstelegraph.co.uk
All photos by Averill Photography
Randon tested the big beast at Donington Park last week and has impressed the new team looking to enter the championship – they are looking for an up-and-coming young driver pairing.
x
Randon, 22, was only able to race a couple of weekends in last year's Renault UK Clio Cup, due to lack of funding, although he impressed sponsors and other observers in those, qualifying on the front row and finishing his shortened season with two top-10 finishes. Finding funding for next year will still be an issue but, big as the Maserati is, the season will potentially cost less, as he is sharing it with another driver.
x
It will still cost thousands but Randon's father, Neil, said: "While we can get away with a limited programme for one year, if his racing career is to progress, we need to make sure next season is a full campaign.
"Following his success in those two race weekends and the promise he showed, Sam was invited to test for an exciting new British GT race team. "
x
British GT has become one of the world's leading sports car championships, featuring a line-up of exotic machines from such as Ferrari, Aston Martin, Bentley, Lamborghini, Porsche and McLaren.
"They race at circuits all around the UK and include one International round at the Spa Francorchamps formula one circuit in Belgium."
x
GT racing is a team sport and Randon would share the driving with the other racer in endurance races of between one and two hours.
The Gran Turismo had presence in the pit lane
"We were originally meant to test the car earlier in the year but Sam fractured his hand shortly before the test and we had to wait until he was strong enough," said Neil Randon.

"Sam tested his strength in a simulator at Silverstone as a final check.

"At last we had some luck, in a week of really bad weather we struck lucky and had glorious sunshine at Donington.

"This meant we could get out on slicks and really get a feel for the car."

"It's a beast. There's no other way to describe it," said Sam Randon.
"There are no driver aids such as traction control or even ABS brakes, this is just raw power. It's just an amazing car to drive and makes so much noise.
"It's a big car, too and rear wheel drive, of course. I felt like a novice all over again. It's a very different driving technique but the simulator session helped this week."
Randon impressed the team but, as always, fundraising is the rub.
"This is not a done deal, far from it," added his father.
"We still have to generate a significant race budget to get him out there.
"Sam is looking for local business leaders to get involved. We already get fantastic support from the business community at Marketing Derby.
"It's an emotional roller coaster and highly addictive. Our sponsors tend to get very involved in the highs and lows of a season."
You can watch a video of the test day below, @SamRandonRacing, and email Sam at SamRandonRacing@yahoo.co.uk.
Sam puts on strong display at Snetterton
22 YEAR OLD rookie Sam Randon concluded his short 2017 campaign in the Renault UK Clio Cup this weekend with 2 solid top ten finishes and a fastest lap beaten only by the two runaway leaders.
In stark contrast to his Croft weekend, the weekend did not start well for the Ashbourne racer as his qualifying results left him languishing mid-pack, exactly where he didn't want to to be.

"I left it too late to come in for new tyres during the qualifying session, and was unable to get them up to temperature and get my fast laps in."
x
Despite an encouraging position on the timing screens early on in the session, he finished disappointed back in P11 for race 1 and P9 for race 2.

Sam had a messy start in race 1 and dropped several places on the first lap, avoiding other collisions and fighting throughout the race to claim them back finishing 10th on the televised race.

"It's was hard to overtake here and Clio racing is just so competitive that the slightest mistake gets punished every time".
Sam's start in race 2 wasn't much better but then he was confronted with a competitor spinning in front of him, avoided the accident but lost more places on the first lap because of the incident.
Finding himself outside the top10 in P12 Sam was being held up but finding it difficult to get past.
"I was much happier with my performance in race 2 and was able to focus on going forwards"
Sam did find a way past several cars and finished in a very credible P7, finishing the race battling fellow rookie and teammate James Dorlin for top honours in the Graduate cup for drivers new to the championship. Sam's fastest lap in the race was only beaten by the 2 championship leaders, in their own battle at the front.
"I'm really pleased with my pace and the result all things considered. It just shows how important qualifying is in the Clios".
x
So the budget is now spent. This was the last race this year for Sam unless new investors can be found.
Sam summed up his Clio Cup experience;
"I'm happy that I've made an impression in the 2 weekends we've competed. We're on the pace which is the important thing and shown we can compete at the sharp end. That was always the plan."
x
Father Neil said
"At this level in the sport, and with such limited track time, Sam's achievement is remarkable, I'm so proud of him.
"We are hoping that by focussing on selling our professional hospitality and live TV brand exposure offered by the UK Clio Cup, that we can attract more local businesses to get involved and become a part of the next chapter in Sam's racing career".
Randon makes an impact in his debut Clio Cup appearance
ASHBOURNE racer Sam Randon stunned onlookers with his debut pace qualifying his turbocharged Renault Clio front row at Croft Circuit, near Darlington.
Sadly he was unable to convert that qualifying result into any kind of race result; a technical issue in race one scuppered his chances in the wet, and then a first lap spin on live TV the final indignity.
New to the UK Clio Cup at Croft 22 year old Sam was understandably apprehensive competing at this level, having previously only raced the older generation3 Clio in the club level Michelin Clio Cup Series.
x
Sam explained how three years in the generation 3 Clio has prepared him well for the UK Clio Cup.
"I think the gen 3 car is actually more difficult to drive so it's ideal preparation for any driver aspiring to reach the UK Clio Cup and very good value for money."
In contrast, the UK Clio Cup races in the TOCA package alongside the British Touring Car Championship, an event that attracts up to 40,000 spectators.
"It felt like the first day of school. I really didn't know what to expect or where I would be." said Sam
"So I was delighted to have been on the pace so quickly and qualify so well."
He didn't have it all his own way in qualifying as the car refused to downshift on his outlap, but his Westbourne support team had to hastily reset the electronics and send him back out. Little did they know, that same gear change fault would return in Saturday's race.
"I'm under no illusion just how hard it's going to be to convert this to a result. There's some real quality drivers on this grid".
Having a premature exit to Saturday's race Sam was looking forward to a dry race on Sunday, lining up on the front row alongside championship Mike Bushell.
"Incredible achievement to qualify so well on his debut." exclaimed ITV4 commentator Phil Glew as the grid formed.
"I got a good start and was alongside Mike down into the first corner."  Sam explains.
"I was on his boot lid and even thinking about having a run at him after the chicane, but then it all went wrong".
The margin between hero and zero is slim. Sam thinks he took too much kerb through the chicane and on cold rear tyres it tipped the rear of the car into an uncontrollable slide.
"Probably the biggest difference between the old car and this turbocharged Clio is ability to save a slide like this. The old car was easy to catch but this one swings like a pendulum once it has lost traction"
Live on TV, the commentators said Sam's car #10 did well to avoid the wall, but the spin left him in the middle of the track and an unsighted Dan Rowbottom t-boned the drivers door.
"I've apologised to Dan. It was a rookie error and I'm so mad with myself. I threw away the chance to showcase what I can do on live TV against some of the best drivers in the country."
x
x
Now Sam has to do it all again if he can raise the budget in time for Snetterton at the end of July.
"There are lots of positives from the weekend so I will focus on that and not dwell on the race results. I think I made an impact one way or another. They certainly know who I am now!"
Sam joins the UK Clio Cup
ASHBOURNE racer Sam Randon will finally get his 2017 season up and running at Croft Circuit, near Darlington, in early June.
And he will do so in front of a live TV audience as he attempts to take his career up a notch.
After finishing third in the Michelin Clio Cup Series last year, 22-year-old had planned to make the step up this season to the higher profile UK Clio Cup but a lack of funds foiled his aspirations.
Frustratingly, he had to sit out the first three race weekends as his competitors raced without him.
x
"We knew the budget at this level would be a challenge." said Randon.
"But this is the right step for my racing career, so we decided to hold out until we had the funds to compete."
Now he has.
x
x
x
The Renault UK Clio Cup is the premier category to be seen in for aspiring touring car and sports car drivers, featuring at Britain's best circuits with all its races taking place alongside the world famous Dunlop British Touring Car Championship.
On top of live coverage on ITV4, the events attract close to 40,000 people on average at each event.
x
Half the current BTCC grid raced Clios and it can attract high-profile drivers such as Nicholas Hamilton, brother of F1 world champion Lewis, who is also competing this year.
While sitting out the racing, Randon has worked hard to generate sponsorship. Long-time sponsor Twincentric Integration have this year stepped up to become prime sponsor.
"We are delighted to be running not only with Twincentric's big blue logo on the car but we will also be supporting and promoting the Prostate Cancer charity on behalf of Twincentric," said Randon.
The company's managing director, Tony McGurk, said: "We've been supporting Sam's racing since his karting days so it's great to see him now at this level and we are very proud to see him racing with our logo on TV."
Randon also continues his association with Derbyshire based sponsors Greenbank Group, of Swadlincote, the Chequered Flag micro-pub in Castle Donington and Derby Remapping Services.
Preparation for the Croft weekend will include only a single track test day, supplemented by sessions in a professional racing simulator which Randon has used with some success in the past.
Sam's biggest supporter is his father, Neil. "The simulator is much cheaper than getting the car to a track with all the necessary team support," said Randon senior.
x
"We are throwing Sam in at the deep end a bit as these turbo-charged Clios are very different to the older car he is used to.
"We have to be realistic about what he can achieve with so little preparation but we are aiming for a top 10 finish, which would be a real achievement for him first time out at this level."
x
x
The race will be on ITV4 on Sunday, June 11.
Story by Colston Crawford, Derby Telegraph
Lack of cash puts brake on Randon's dream
ASHBOURNE racer Sam Randon's dream of completing another full season in the UK Clio Cup has been hit by a lack of budget.
The 22-year-old admits he will miss the first few rounds of the championship, which starts at Brands Hatch on the first weekend in April, because he does not have the necessary funding. After four successful years in the feeder series, the Michelin Clio Cup Series, racing a generation three race-prepared Renault Clio, Randon had hoped to make the next step in his racing career. That means racing the generation four Clio in nine UK Clio Cup events, between April and September, in front of TV cameras as part of the British Touring Car Championship weekends.
He said: "We've been working hard to find new sponsors during the winter and are still talking to several interested parties but, with only two weeks to go until the season kicks off, we have had to accept that we won't be able to fund a full season.
"I haven't given up on the dream and will definitely be on the track for several of the races later this year."
His father, Neil, added: "It's not the end of the world as a typical campaign to reach success at this level would be for three years and Sam is still quite young so we have plenty of time.
"But lack of track time will put Sam at a disadvantage and this championship is already incredibly competitive, so it makes the challenge even bigger for him.
"But Sam is determined this is where he wants to be so watch this space!"
Randon finished third in the Michelin Clio Cup Series Championship which came to a climax in October.
Randon tested the generation four car during the winter and loved it.
He said: "The gen four is turbo-charged so gets out of the slow corners very quickly but it was the brakes I loved. With no servo assistance I could jump on the brakes just like a go-kart."
Anyone willing to help should contact Sam via this link.
Sam hosts Marketing Derby event
22 year old Derbyshire racing driver Sam Randon hosted a packed Marketing Derby event at the prestigious Donington Grand Prix Museum this week.
Marketing Derby promotes the city in order to attract and support investment and comprises many local businesses as bondholders; from small, sole-trader companies to the region's largest firms, the Bondholder community is a vast and vibrant collection of what makes Derby great.
Bondholders who braved storm Doris were treated to an introduction into Sam's 'crazy world of motorsport' and career goals with an exciting video and presentation, followed by the opportunity to sit in the race car.
Sam raffled off 2 bottles of podium champagne to finish a great night of networking with the local business community.
Bondholder AWD Developement tweeted "Thanks to @SamRandonRacing for hosting tonight's @MarketingDerby #bondholder event @DoningtonParkUK. Great evening at a great venue."
XL Banners tweeted "Great turn out for @SamRandonRacing at @DoningtonPark for a @MarketingDerby #bondholder event 'come join the adventure'"
Sam takes third in Championship
SAM Randon is hoping to go up a gear after finishing third in the Michelin Clio Cup Series Championship.
The Ashbourne racer went into the final event at Silverstone holding on to third place with Luke Pinder snapping at his heels. And despite being forced to retire in race one, he recovered to finish third in race two to make sure he was not overtaken in the final standings.
And now he has his sights on going up a level.
"I'm hoping to compete in the UK Clio Cup which races in front of the British Touring Car Championship crowds, which approaches 40,000 people at each event," he said.
"But it is solely down to funding and we will be working hard over the winter."
x
x
Randon made a flying start to the first race but after contact from behind, soon found himself in fourth, behind Pinder and desperately trying to gain ground on his rival for third.
"I got on his inside coming into club corner onto the pit straight and thought I had the corner won as Luke ran off the circuit," Randon explained,
"but he kept his foot in and when he re-joined the circuit there was heavy contact."
x
x
Pinder ended up in the wall, while Randon had to retire with his steering seriously damaged. But that was quickly repaired by his Westbourne team and he fared better in the second race. Championship winner James Dorlin won, leaving Randon to battle for second with Brett Lidsey.
x
x
"I did actually get past Brett on the penultimate lap down the Hanger straight but my wing mirror had folded in so I couldn't see where he was behind me and he retook the place on the straight back," said Randon.
"I'm pleased with third in the Championship but still feel I should have been challenging more for the top two places. Qualifying has been my downfall though my starts have been mega."
Meet Sam Randon
Watch this video created by Downforce Radio's Jake Sanson

© SamRandonRacing Limited, 2009-17. Unauthorized use and/or duplication of this material without express and written permission from this blog's author and owner is strictly prohibited. Excerpts and links may be used, provided that full and clear credit is given to SamRandonRacing Limited with appropriate and specific direction to the original content.
KEYWORDS Neil Randon get started in karting start karting TKM not ROTAX Whilton Mill, Kimbolton, Shenington, Rissington, BT82,Super 1 one, clutched direct drive, Tony, flags, trophy, clio cup protyre, renault, BARC,BTCC, British Touring Car Championship, Westbourne, SWB, SV, Danny Buxton, talent, future, racing driver